Guides
Exploring the Potential of MetaMask Snaps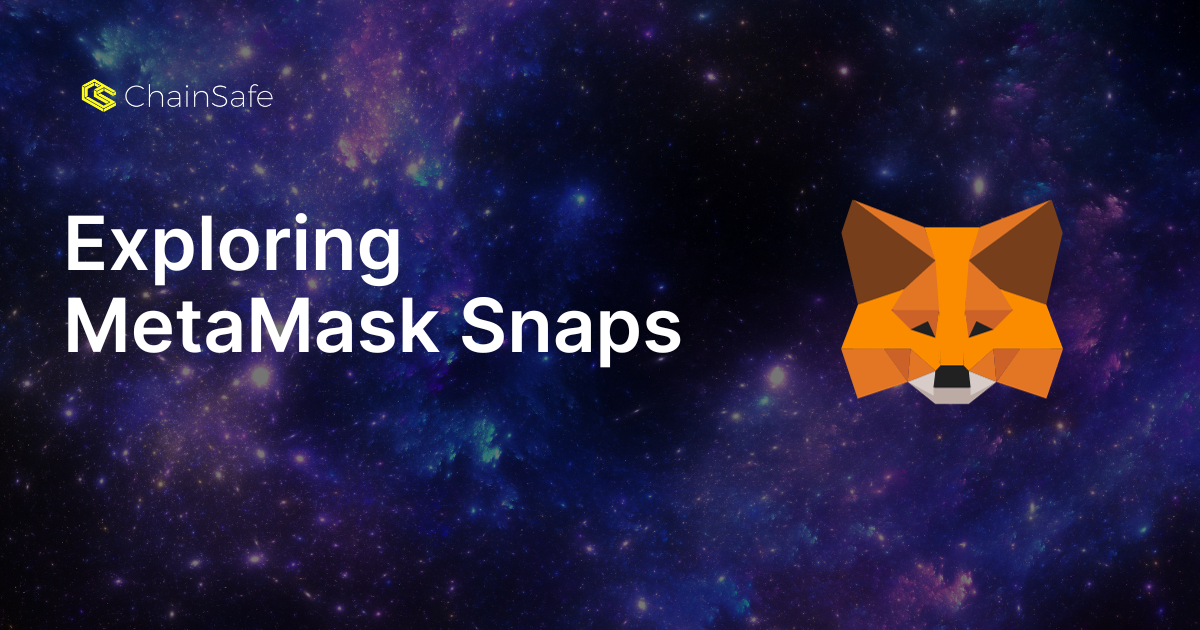 The MetaMask Snaps framework—a system for extending the capabilities of MetaMask—has made a splash since its open beta launch.

Following the release, we hosted a Twitter Spaces that brought together an illustrious Snaps lineup, including Dan Forbes, Technical Product Manager at ChainSafe, Christian Montoya, Senior Product Manager at MetaMask, and Bill Laboon, the Head of Education and Grants at the Web3 Foundation.

This conversation on Snaps painted a vivid picture of the possibilities they offer. Below is a quick recap and summary of the key points you need to know about Snaps.
What are MetaMask Snaps?
Snaps function as extensions for your MetaMask wallet. The Snaps framework empowers 3rd-party developers to design custom programs that run within the MetaMask environment. Essentially, Snaps are plugins that enhance the capabilities of MetaMask and enable previously impossible interactions, such as those with non-EVM blockchain systems.
Christian likened Snaps to add-ons for your wallet.
"I like to compare Snaps to mods for MetaMask or add-ons for your wallet. They're things that you can install into MetaMask that give you access to new experiences. They modify the way MetaMask works, and they give you new features."
A smooth user experience
Snaps are building a reputation for offering a seamless user experience. Bill shared his excitement about using the Polkadot Snap, emphasizing this aspect in particular.
"So people that follow me on [X] probably saw that I mentioned that the [Polkadot Snap] was very cool. Because the experience really is kind of seamless. So I was able to very quickly create an account on MetaMask, send Westend tokens, Westies, as they're called, from one account to another."
The nice thing about working with Snaps is much more than good documentation, there's a real community. This community includes projects such as Astar, whose Snap is currently pending a security audit.
Once ready, users will be able to use Astar dApps through MetaMask.
What can you do with Snaps?
Snaps can be categorized into three primary types, each of which is designed to enrich the user experience by introducing new features and altering how MetaMask operates. These are:
Interoperability Snaps
These enable access to networks not natively supported by MetaMask, like Polkadot, effectively transforming MetaMask into a Polkadot wallet upon Snap installation.
Transaction insights Snaps
These provide valuable transaction information, which can help reduce the risk of users executing malicious transactions.
Notification Snaps
Thanks to Snaps, MetaMask will support notifications. Users can receive real-time notifications about the web3 apps they interact with, keeping them informed and engaged.
Have a question about Snaps? Want to know more? Get in touch 👋
Screening Snaps and safeguarding data
During the conversation, Christian emphasized the rigorous security measures underpinning Snaps. This is where a prospective Snap undergoes a comprehensive review process to ensure each is trustworthy, open-source, and transparent.
Only after verification can Snaps be listed and installed within MetaMask.
"We have a process by which developers work with us. They get their Snaps audited, they do a security review process, and we make sure that everything is above board. The code has to be open-source, and people have to be able to verify what it is that they're installing."
It's this security-led process that makes for safe and dependable outcomes. The Snaps directory features approved Snaps and serves as a central hub where users can explore and install a plethora of Snaps.
What does the future hold for Snaps?
One of the top priorities for Snaps is the introduction of a custom user interface. This entails adding more UI components that Snaps can use. In the near future, Snaps Pages, a new development, will also allow for the creation of Snap-specific UI hubs within MetaMask, further enhancing user experience.
Snaps are opening new horizons for crypto's most-used wallet, improving user experience, and expanding possibilities. Perhaps most exciting is the fact that more developers are now able to build on top of MetaMask.

With the advent of Snaps, the opportunity to create features is now open to a wider group. The first release of 34 Snaps will offer compatibility with non-EVM blockchains, including Snaps built by ChainSafe.
In the last few years, we've emerged as a leader in Snaps development, including work building plugins for Filecoin, Near, Polkadot, Aleo, and others. As a multi-chain R&D firm, we're uniquely positioned to implement and maintain Snaps.
Have a question about Snaps? Want to know more? Get in touch 👋
ChainSafe
ChainSafe is a multichain research and development firm that supports the decentralized web through high-impact contributions to leading protocols. Our work comprises node implementations, interoperability infrastructure, gaming solutions, distributed systems research, blockchain applications, tools, audits, and much more. Everything we work on is open source and community-oriented.
Website | Twitter | Linkedin | GitHub | Discord | YouTube | Newsletter