blockchain-game
Case Study: Arsenal by Fabwelt
"Thanks to the Unity SDK plugin from ChainSafe, the blockchain features of our game were easily implemented. The SDK gave us everything we needed to achieve our goals." - Loet de Hooge, co-founder, Fabwelt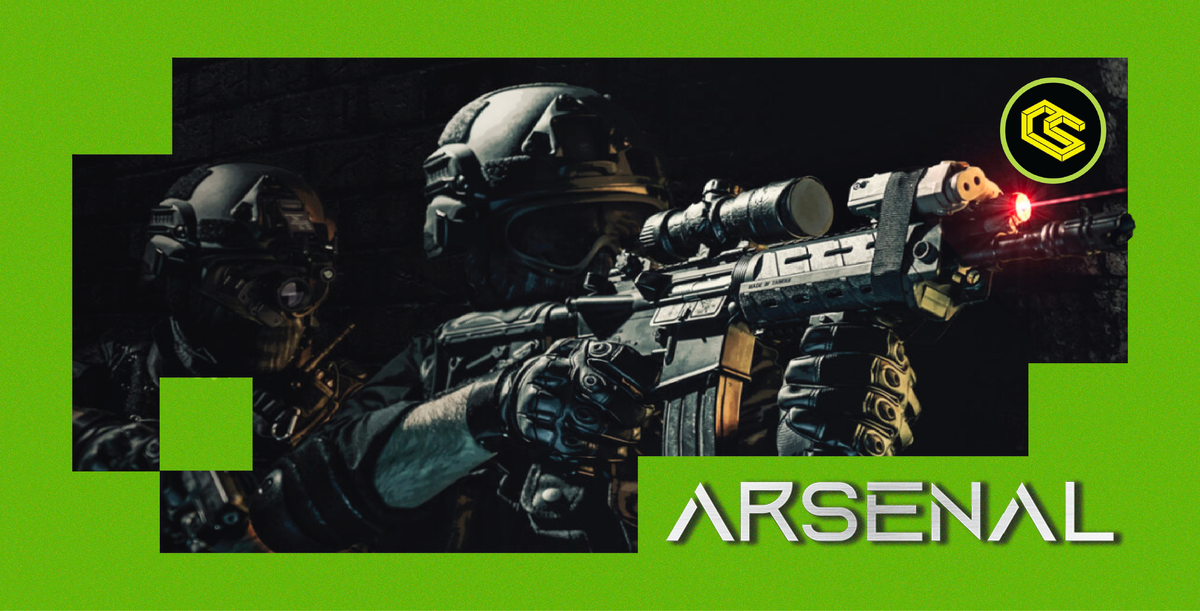 "Thanks to the Unity SDK plugin from ChainSafe, the blockchain features of our game were easily implemented. The SDK gave us everything we needed to achieve our goals." - Loet de Hooge, co-founder, Fabwelt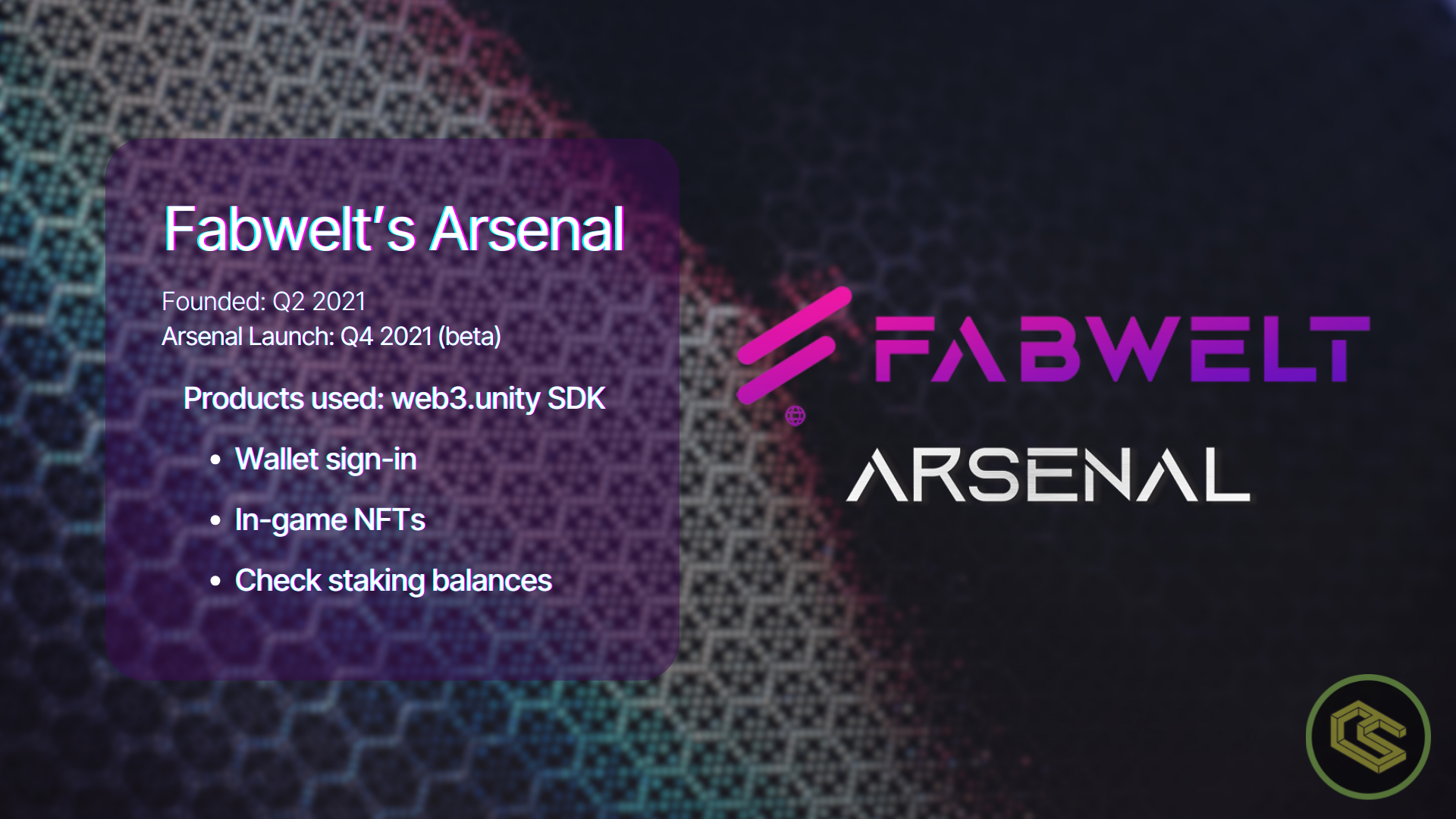 What is Arsenal?
Arsenal is a 3D, first-person PVP shooter by Fabwelt
Blockchain integrations are deployed on the Polygon mainnet
Arsenal uses NFT assets for in-game functions and power-ups
ChainSafe's web3.unity SDK power's Arsenal's wallet access and in-game NFTs
Fabwelt's Arsenal is a game with a mission. Arsenal makes the transition from traditional to web3 games smoother by offering a conventional, graphics-rich FPS title that feels familiar to today's gamers.
Arsenal incorporates non-custodial smart contracts to power DeFi features into a popular competitive game genre. With multi-platform support and nearly 10,000 active players today, Arsenal stands to introduce web3 to gaming's most dedicated audience.
Using our SDK, Fabwelt was able to implement:
Multi-wallet access
In-game NFT power-ups
Check-balances for staked tokens
Fabwelt's story
Fabwelt is one of the foremost game studios building on the Polygon blockchain (formerly Matic network). Founded in 2021 by Loet de Hooge, Fabwelt aims to drive the blockchain gaming experience through exciting gameplay and in-game crypto-asset utility.
Fabwelt's Arsenal in retrospect
H1 2021 - Arsenal alpha development starts
H2 2021 - Arsenal beta launch
H1 2022 - Multiple new games in development
H2 2022 - Arsenal for Android developed
H2 2023 - Mobile iOS version of Arsenal in development
Arsenal alpha development started in early 2021, with the beta launch occurring later the same year. By the end of 2022, Fabwelt had multiple games in development alongside Arsenal, including a mobile version of the title.
Fabwelt's Accolades
1st prize for the Polygon Grants Hackathon in 2021 for Best Gaming Project Reveal
1st prize in Trust EVM GameFi Hackathon in 2022.
More Arsenal
Fabwelt's Arsenal is one of web3's top ambassadors. Visit their homepage to get in the game.
Web3 integration in Arsenal
With Fabwelt's mission of bringing web3 gaming to the traditional forum, its user experience has to remain as smooth as possible. The first step in Arsenal's player journey is achieved through the web3.unity plugin.
Arsenal uses ChainSafe's wallet sign-in feature to connect players with BSC, Polygon, KCC, HECO, and AVAX wallets. Wallet access powers sign-in, balance-checks for accessing features in-game, Arsenal's Tier System, and in-game NFT power-ups.
"We use NFT tech in our games as strategic utilities and assets. Buying our NFTs on the market allows the gamer to use them in-game by connecting their wallet with the ChainSafe Gaming SDK."
Fabwelt uses ChainSafe's web3.unity SDK to bring three core features to the game: wallet connections, in-game NFTs, and communicating staked token amounts for Arsenal's Tier System.
Wallet access
"First, we're using the plugin to allow players to connect their wallets on different chains (BSC, polygon, KCC, HECO, and AVAX). Once connected, we use the plugin to check player wallet balances (needed to unlock certain features in the game).
We also use the plugin to transfer tokens from their wallets to the game as in-game tokens or to allow them to redeem earned tokens in their wallets."
In-game NFTs
"We use NFT tech in our games as strategic utilities and assets. Buying our NFTs on the market allows the gamer to use them in-game by connecting their wallet with the ChainSafe SDK."
Tier System
"The third part is the tier system. When gamers stake a certain amount of tokens on our staking portal, they can earn more by playing with our multiplier system. We use the SDK to call a function on our staking contract to retrieve the amount of staked tokens by the player."
Add these web3 features to your game!
ChainSafe gaming's web3.unity SDK is a simple-to-use solution to turn your game idea into a reality.
Our SDK includes functionality for:
Wallet and social logins
Gasless transactions
In-game marketplace and NFT minter
And more 😀
Check out our Marketplace and the web3.unity SDK to learn more.
Why Fabwelt chose ChainSafe
Fabwelt set out to design Arsenal in Unity from the start. ChainSafe's web3.unity SDK is specifically tailored to connect games built on the Unity engine to the blockchain. ChainSafe is continually bolstering its SDK with ongoing development and a helpful support team—two factors that ended up benefiting Fabwelt and solidifying their choice of web3 tooling.
"During the development of Arsenal, ChainSafe pushed new updates of the SDK enabling a better user experience to connect their wallet to our games and retrieve the information we need."
Fabwelt also found ChainSafe's SDK to be a malleable resource that can be customized for a variety of different use cases. Additionally, our team was able to meet with Fabwelt for support in getting the most out of web3.unity while they developed Arsenal.
"[web3.unity] has clear documentation, continues to have active development, and the team has been approachable if support is required."